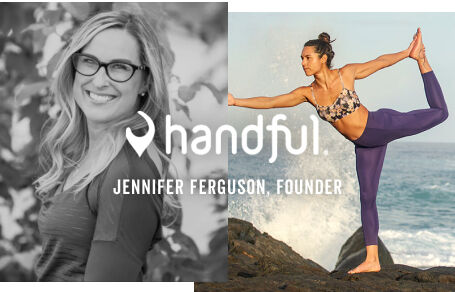 Jennifer Ferguson couldn't find a sports bra that kept up with her packed days of group fitness instruction and kid wrangling (she has two), so she went and built her own. Handful sports bras are designed to support our everyday, all day, from wake up and workout to totally worn out.
Handful Sports Bras
Handful Sports Bras
Handful Bras
We get it: life can be a handful. When it is, we reach for one of our sports bras by Handful, a woman-owned company that's always there to provide a handful of support.
If you're cup size A through D, Handful bras at Title Nine are the perfect sports bras for you. The Handful bra, a high-impact bra for A-B cups and a low-impact cute and strappy sports bra for C-D cups, has a wide band and adjustable straps that can be worn tank-style or converted to x-back styling. Just-right removable pads give us a variety of choice, while the wireless band is flattering without flattening. Customer reviews call this bra a great every day bra for the gal on-the-go.
Are you a C-D cup looking for a high-impact sports bra that doesn't give you uniboob? Check out the Boobyah, Boundless, Terminator, or Handful Plus bras on our site. These bras are made with moisture-wicking fabric that wicks away sweat, keeping you chafe-free and carefree whether you're running a marathon, practicing yoga, or anything in between. Choose the Handful Plus for its Y-Back styling and supportive fit, or the pullover Boobyah for its strappy x-back styling. The straps on the Boundless make this adjustable sports bra queen of versatility, while the straps on the Terminator can be adjusted for a custom fit.
Got questions? Like your favorite Handful sports bra, our gals in customer service offer great support. Give them a ring or chat with questions about styles, cup sizes, levels of support, or learn about our 360 guarantee. Got opinions about our gear? We like gals who talk back! Be sure to leave us a review online.
Shop featured categories: