Get Geared Up: Mountain Biking Gear Essentials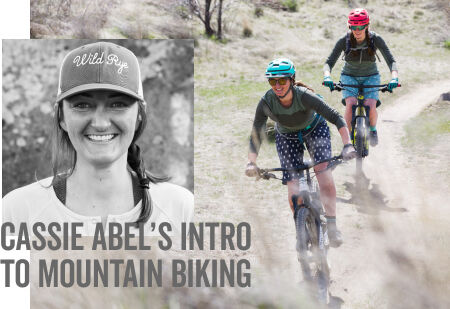 ---
---
Mountain biking is one of our favorite outdoor sports for getting an action-packed workout with a solid dose of adrenaline and great views from the trail. We're partial to a post-ride beverage with our crew of MTB baddies too – a community that can only be found with women who enjoy getting as dirty (and sometimes scraped up) as we do.
For some mountain biking advice and answers that prove helpful when you're in that newbie territory (yeah, we've all been there and some of us still are), we tapped Cassie Abel, Wild Rye Founder and shredder of berms everywhere. Hint: You don't need to go all out with top of the line mountain bike components and flashy gear, but there's a handful of essentials you don't want to get going without.
What do I bring Mountain Biking?
Helmet.

This oughta go without saying, but it's a must. And, you need to replace your bike helmet every 2-3 years, even if you haven't crashed. Helmets get brittle from heat and the sun so they don't protect you as much as they did when you first bought it.

Chamois Bike Shorts.

If you're new to the saddle, a chamois (pronounced "shammy") is essentially cushioning for your crotch. It's sewn into a pair of fitted — usually spandex — shorts that, for mountain biking, you'll wear under more abrasion-resistant "over shorts". Get a good chamois. You'll see cheap mountain bike shorts that are combos of over-shorts with a built-in chamois. Don't do it! Spring for well-made, cushioned, and wicking chamois shorts. The chamois you go with is going to be the key to your comfort long term.

Mountain Bike Gloves.

Your hands are usually your first line of defense if you fall, so protect them. Grab a pair of full finger gloves that are specifically for mountain biking.

Hip pack or backpack.

So you can carry necessities like a spare tube, a CO2 cartridge, a multi tool, water bottle or hydration pack, and plenty of snacks. And if you're carrying a pack, you don't need to wear a cycling-specific jersey.

Mountain Bike Shoes & pedals.

There are two primary types of pedals that you can have when mountain biking — flat pedals or clipless pedals. (Clipless is counter intuitive because they are actually pedals that you clip into.) A lot of people like to start with flat unless they come from a road world where they are used to clipping in and out of pedals. If you're trying the clip pedals for the first time, get comfortable with them in a grassy field or at a park or something before you take it out on the trail.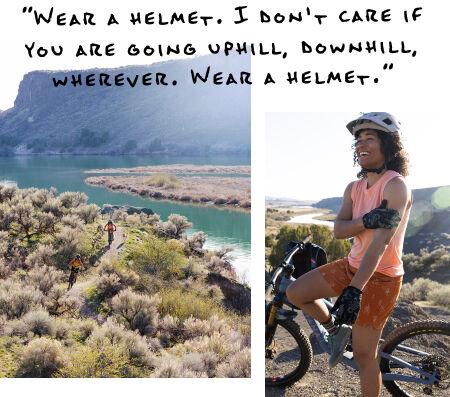 ---
How do I build my MTB community?
There was a period of time when I would just go with whoever was going riding, even if I wasn't particularly close with them. That led to new communities for me. Over time, I built a really rad community of women.
Go for a mountain bike ride with a neighbor or anyone you know who rides bikes, even if they aren't who you want to spend all your time with. Say yes, roll with it, and you're likely going to meet someone through those experiences — someone you really enjoy getting out there with.
Figure out your local bike shop or a local women's riding group in your area and just start showing up to those events. And even if the big group rides aren't your thing, long term you're gonna find a riding buddy to get out for smaller rides.
Where to look for the best mountain bike?
First of all, if you can afford it, buy the slightly nicer mountain bike. If you buy a super entry level bike, you'll grow out of it really fast. Especially when you tap into a community of women and you're all leveling up your skills together.
If you want to stay local, check out your local bike shop. You'll get folks there who know what's new, what's helpful, and how to get you into a bike that fits you.
A lot of bike shops will hold a bike swap every spring, where you might get your hands on a good option.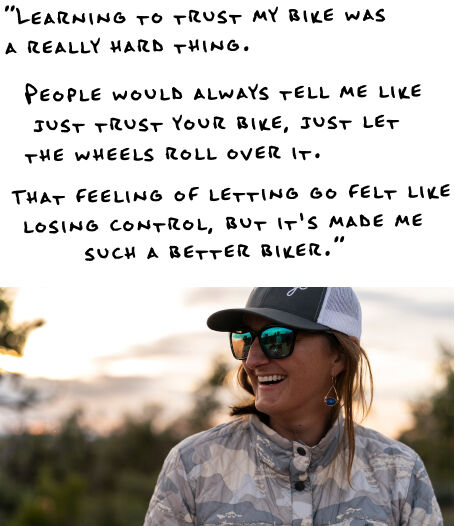 ---
What do I carry in my backpack for mountain biking?
Essentials to bring in your backpack or fanny pack while you're on the trail to stay safe, fix a few things, and avoid the bonk:
Repair kit.
You should always ride with a kit that's got your multitool, air compressor, CO2 cartridge, a spare tube, and anything you need to fix a flat. And learn how to use that repair kit before you get on a lesser traveled trail. No one wants to feel stuck!
Water.
Hydration is a must. Carry a hydration pack (a backpack with a reservoir like a Camelbak) or stash a water bottle in a cage attached to your bike frame
Snacks.
Getting stuck with a busted tire or mechanical is bad enough. Let's not get hangry too. Ride snacks like gummies are great, because they're easy to pop and don't make you as thirsty as bars. Honey Stingers and Clif Bar shot bloks are super convenient.
Extra layer.
A long sleeve or a light windbreaker.
Sunscreen.
Always.
Bug repellent.
Depending on the time of the year.
What are key game-changing, bike handling skills to keep in mind and practice?
There are a handful of bike handling skills to focus on and, once you get the hang of them, they'll really make a difference in confidence and ability. Here goes:
Descending.
You want your pedals flat-ish with one in front of the other. You don't want one pedal down and one up.

Get out of the saple a little so you're standing on those flat pedals.

And don't pinch your knees. It might feel more secure, but it's really the opposite. Instead, you wanna think about having more of a triple threat position body positioning so your knees are out and giving you more balance. Once you do that, it's a game-changer.

Get your boobs over your handlebars. Seriously. Get your upper body a little more forward than you think you should.
Turning.
Look ahead. You wanna look where you'll end up, no where your obstacles are. Don't get distracted by the things you're nervous about.
Climbing.
Lean forward. You wanna keep traction so both wheels stay on the ground during a steep uphill. It's really easy to lose traction on your front wheel while you're climbing if you're not distributing enough weight up there. Here's another place to get your boobs closer to your bar.
---
Looking for more mountain biking expertise?
Cassie's a big fan of Ladies All Ride and Lindsay Richter. Check out their IG @ladiesallride for more helpful tips. The badass women mountain bikers over there are in a cadence of sharing out mountain biking tips every Tuesday.
Get Geared up with Wild Rye apparel