How to Choose a Swimsuit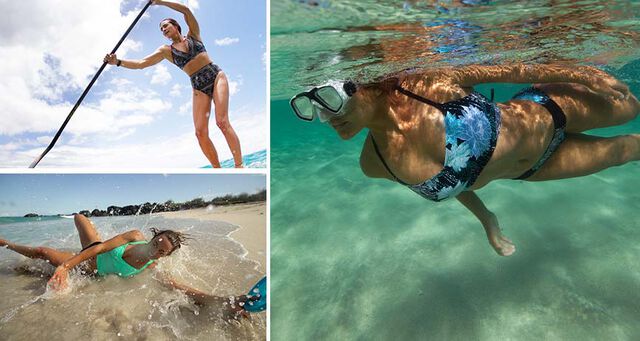 ---
At Title Nine, we believe our bodies are all built to do the incredible, and our swimsuits should keep up. We've bundled everything you need to know in our Swimsuit FAQ. You CAN find the swimsuit with the right amount of support and coverage to get you in the water and keep you there, and it all starts here.
---
What style of swimsuit is best for my needs and activity?
Whether extreme water sports are on deck or a full weekend of leisurely paddling around the lake, Title Nine has the right swimsuit.
Every swimsuit Title Nine offers is a sporty swimsuit, even if it may not look it. Yes, even strappy bikinis can be swimsuits for surfing! Thanks to adjustable straps and back closures, and minimal coverage to full coverage offerings, we no longer have to compromise our swim wish list.
Every bikini, tankini, one-piece bathing suit and swim separate we offer can be used for casual wear, from chasing the kids around the splash pad to taking a rest day at the pool.
Whether you need sports bra support or full bum coverage that won't quit, our sporty swimsuits are ready for it all, from surfing to water polo. Features like internal drawstrings and adjustable tops deliver a custom fit to help make the right suit wipeout-proof.
Give sun the burn with UPF sun protection that doesn't back down. Looking for swim-friendly UPF clothing and swimwear? Longsleeve and short sleeve sun shirts, women's rash guards, board shorts and wetsuits give us up to UPF 50+ wear after wear, no reapplying lotion needed.
---
What types of bikinis and swimsuits does Title Nine carry?
Our entire collection of bikini tops, tankinis, bikini bottoms, and one-piece swimsuits are designed with athletic women in mind, and suit all body types. Whether you're surfing, paddling, swimming, or just hanging with the kiddos, our swimwear is designed to keep up—and stay up—through it all. And with tons of cuts, coverage options, and colors to choose from, you'll find the best swimwear to suit your sport.
A. Bikini Top - Title Nine's range of bikini tops come in all sorts of styles with varying levels of coverage and support—with adjustable shoulder straps, plus wider straps for larger busts, and either a hidden underwire, single underwire, or no wire at all. From triangle, to scoop neck, to high neck, we have tons of different types of bikini tops to suit every woman AA to DDD. Our collection of bikini tops also feature bra-size swim tops, so you can get the most accurate size, ideal neckline coverage, and just-right support for your cup size. No matter which bikini top you choose, you'll get a stay-put fit that keeps up with your every move.
B. Tankini Top - For the woman who prefers not to show a ton of skin, our tankinis are a great choice. With similar cuts as a bikini top, they deliver the same sport-level support and performance as our other swimwear, but with extra coverage, loose-fitting options on the torso. Our tankinis also feature adjustable shoulder straps and wider straps for larger busts, as well as underwire and wirefree support. Plus, they're the right swimsuit for all types of low to medium-impact water activities, and go great with our bikini bottoms, swim shorts, and swim skirts.
C. Bikini Bottoms - Want a stay-put bottom that's wedgie-proof, quick-drying, and has the cheek factor you're looking for? You're in the right place. Title Nine bikini bottoms come in all types of cuts for every butt—from high-waisted bottoms, to mid-rise and low-rise, boyshort-inspired bottoms, and swim shorts for even more coverage than a typical bikini bottom. Mix and match any of our bikini tops and bottoms for a sport-ready suit that's all you. For any kind of activity in and out of the water, nothing tops our collection of bikini bottoms. Want more coverage? Add board shorts on top—they're the perfect pairing for any bikini type.
D. One-Piece Swim - When a bikini top and bottom isn't enough, but a tankini isn't what you want either, a one-piece swimsuit is our top choice for one and done swim-suiting. One-piece bathing suits are ideal for higher-intensity water sports and activities, high sun coverage, and support and coverage in all the right places. Designed to have a compressive, sporty fit, in lots of different swimwear styles, our one-piece swimsuits help you glide across the water without needing to readjust your suit. And if you want even more coverage, choose a one-piece swimsuit with a higher neckline, or pair one of our one-piece suits with any of our swim shorts, board shorts, or swim skirts.
---
How to find a swimsuit that fits my body?
Whatever our body shape, we believe our bodies are all built to do the incredible – backflipping, wave riding, roughhousing, and baby birthing. Your suit? It should be fit to keep up.
The best swimsuit style for your body type is the one you feel most powerful in, so mix-and-match your way to perfection using our swim separates style and coverage selector to customize your coverage and style.
Athletic and looking for a high neck swimsuit bikini to pair with a boyshort bikini bottom? Large busted and in need of cup and band underwired swimsuit support? Curvaceous looking for the perfect ruched side bikini bottom? Long, lean and seeking the coverage of a blouson tankini? We've got you covered! Plus, our swimwear has adjustable straps to customize the fit of any style, including:
---
How do I know my swimsuit fits correctly?
The right fit can be deceiving on dry land—especially in a tiny dressing room!—so here's our quick swimsuit fit guide. Note: All swimsuits stretch a bit when wet and no one wants to lose theirs coming up for air. A slightly firm, almost compressive fit on dry land is a good start. If it's barely holding on when it's dry, it will easily let go when it's wet, so a snug fit is best.
Take It for a Test Dive
Measured up? Chatted with Customer Service? Tried it on and found it perfectly snug in your living room? Go on, dive in and give it a swim. Our 360 Guarantee is the ultimate swim safety net: if for any reason or no reason, you are not happy with your purchase, send it round-trip within a year for an exchange or full refund. No questions. No hassles. No kidding.
---
How do I choose the right athletic swimsuit?
The right athletic swimwear can change everything, from how you feel in your suit to your overall performance. Choosing the best bathing suit for your activity depends on a number of factors, like how much support you need, how much coverage you want, and how much you'll move. Depending on the sport or level of intensity, there may be one bikini top or one-piece that's going to be a better choice over the other. Before picking out your bathing suit, consider the following:
What level of intensity is the activity? Higher-impact water sports, like surfing, lap swimming, and windsurfing might call for a racerback one-piece or a rashguard paired with bikini bottoms. These options give you more sun coverage, and are designed in a compressive, performance-ready fit that stays put through more intensive movement. Lower impact water sports, like casual swimming, paddleboarding, and kayaking, can be done in just about any one-piece or two-piece bathing suit you feel most comfortable in.

How much coverage do you want? Are you more concerned with sun protection, or just keeping things covered while you work it out on the water? Or, do you want a bit of both? All Title Nine bikini tops, bikini bottoms, and one-piece swimsuits come in all kinds of cuts and coverage options for all body types. If you want a little more cheek coverage, go for a swim short or bikini brief inspired bottoms. If you want a little extra coverage for the girls, a halter, high-neck bikini top, or tankini are all great options. Plus, you can throw on a rashguard or sun shirt over any of our bathing suit tops to match any of our swim bottoms, from high-waisted bikini bottoms to boy shorts.

What style do you like best? There are no wrong answers when it comes to picking a bikini top, bikini bottom, or one-piece swimsuit that suits your style. Comfort is always a top priority for everyday or athletic swim, so try out pieces that look good, feel good, and require zero time readjusting. The best types of bathing suits are the ones you feel your best in.

How much support do you want up top? Are you team underwire, or team no wire at all? Depending on the level of support you want, plus the stay-put factor you need to move without thinking twice, there might be one bikini top that'll perform better than the other. If you want a more supportive bikini top, a wired halter, high neck, or scoop neck top will be your best bet. Look for a bikini top that features either one hidden underwire or two to maximize support with a comfortable fit. If a bikini top doesn't fit what you're going for, Title Nine's one-piece swimsuits come in a variety of necklines and cuts, like racerback, halter, and triangle, with wirefree or underwire options. Whether you choose a bikini top or a one-piece swimsuit, make sure it has adjustable shoulder straps and keeps the girls in place (without spilling out) before you get in the water.
---
How do I measure for the best swimsuit fit?
Use the Fit & Sizing Info on any swimsuit page to help with a base size. Every swimsuit style includes a sizing chart specific to that swim style and design. If you're unsure how to measure for a swimsuit, this is where to start.
Bust/Chest: With arms and shoulders relaxed, measure under the arms, around the fullest part of bust/chest, keeping the measuring tape parallel to floor. Think it may be too snug? Take a seat, as chests expand slightly when seated. To find out your cup/band swimwear size, use our bra fit calculator. Your cup-band swimsuit size and bra size are the same.
Waist: Measure around the smallest area of the waist, your natural waistline, taking care to not pull the tape too tight.
Hips: With feet together, keeping tape straight and parallel to the floor, measure around fullest part of your powerhouse.
Torso: To determine torso length for swimwear, measure in a U shape, from the front of one shoulder, down through the legs and up the back of the same shoulder.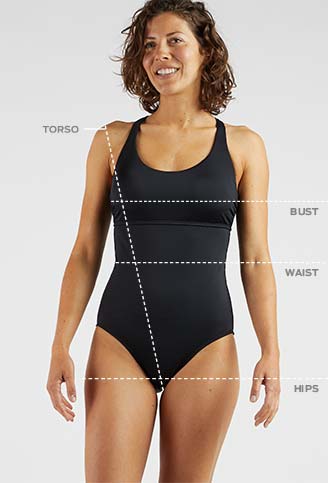 ---
How do I take care of my swimsuit and make it last long?
If you want to keep swimsuits from fading, proper care can make all the difference. Here's how to wash a swimsuit.
Hand wash if you can: Wash by hand using cold water and a mild detergent, both of which are more gentle on fabric and help to retain elasticity.
Machine wash if you must: We know that not everyone has the time to wash their swimsuits by hand. If you do put swimwear in the washing machine, use cold water, the gentlest cycle and place the items in a lingerie bag. Always fasten hooks so that they don't get caught on anything else.
The dryer will fry them: Melting, melting, oh, what a world! While they save time, dryers are the Wicked Witch in the land of swimwear. Heat from dryers will wear swimsuits out much more quickly and can warp the elastic. Instead, lay these pieces flat (or hang them) to dry.
---
Why do swimsuit materials matter?
Quality is everything when it comes to athletic swimwear. As tempting as it can be to save money on athletic swimwear, you want a high-quality piece that will last. If you choose cheap swimwear, that's what you're going to get: cheap, flimsy, and weak fabrics that won't stand up to the swells, and a fit that loses shape over time.
Title Nine fabrics can keep up with your every move. For the everyday wave chaser or underwater enthusiast, a high-quality swimsuit made with high-quality fabrics will take you further—without readjusting or fussing. The best types of swim fabrics to look for are nylon and elastane. These fabrics are quick-drying by nature and stretches just right. They give your swimwear a compressive fit that's still comfortable so you can dive, swim, and paddle all day long.
---
contributing T9 Swimsuit Expert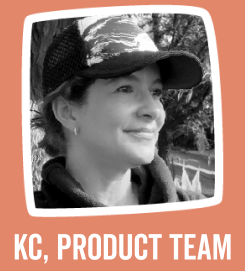 Kristina Casey
Mom, open water swimmer, paddleboarder & trail runner, KC has been the resident Swimsuit Expert at Title Nine for over a decade. In addition to leading and managing wear testing across the entire line of Title Nine and other swimsuit brands we have in our assortment, she works hand-in-hand geeking out with our in-house product development team making sure we're at the cutting edge of swimsuit design when it comes to maximizing both our performance and enjoyment in the water.