How to Choose a Swimsuit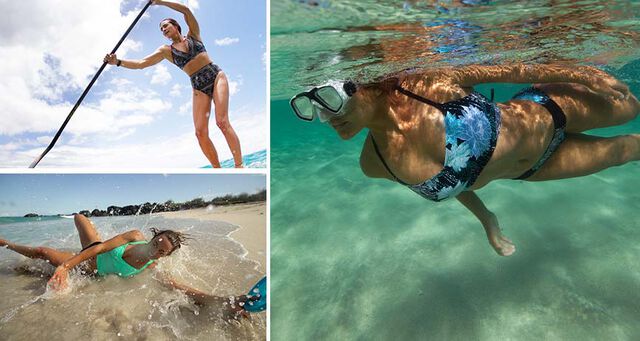 ---
At Title Nine, we believe our bodies are all built to do the incredible, and our swimsuits should keep up. We've bundled everything you need to know in our Swimsuit FAQ. You CAN find the swimsuit with the right amount of support and coverage to get you in the water and keep you there, and it all starts here.
---
What style of swimsuit is best for my needs and activity?
Whether extreme water sports are on deck or a full weekend of leisurely paddling around the lake, Title Nine has the right swimsuit.
Every swimsuit Title Nine offers is a sporty swimsuit, even if it may not look it. Yes, even strappy bikinis can be swimsuits for surfing! Thanks to adjustable straps and back closures, and minimal coverage to full coverage offerings, we no longer have to compromise our swim wish list.
Every bikini, tankini, one-piece bathing suit and swim separate we offer can be used for casual wear, from chasing the kids around the splash pad to taking a rest day at the pool.
Whether you need sports bra support or full bum coverage that won't quit, our sporty swimsuits are ready for it all, from surfing to water polo. Features like internal drawstrings and adjustable tops deliver a custom fit to help make the right suit wipeout-proof.
Give sun the burn with UPF sun protection that doesn't back down. Looking for swim-friendly UPF clothing and swimwear? Longsleeve and short sleeve sun shirts, women's rash guards, board shorts and wetsuits give us up to UPF 50+ wear after wear, no reapplying lotion needed.
---
How to find a swimsuit that fits my body?
Whatever our body shape, we believe our bodies are all built to do the incredible – backflipping, wave riding, roughhousing, and baby birthing. Your suit? It should be fit to keep up.
The best swimsuit style for your body type is the one you feel most powerful in, so mix-and-match your way to perfection using our swim separates style and coverage selector to customize your coverage and style.
Athletic and looking for a high neck swimsuit bikini to pair with a boyshort bikini bottom? Large busted and in need of cup and band underwired swimsuit support? Curvaceous looking for the perfect ruched side bikini bottom? Long, lean and seeking the coverage of a blouson tankini? We've got you covered! Plus, our swimwear has adjustable straps to customize the fit of any style, including:
---
How do I know my swimsuit fits correctly?
The right fit can be deceiving on dry land—especially in a tiny dressing room!—so here's our quick swimsuit fit guide. Note: All swimsuits stretch a bit when wet and no one wants to lose theirs coming up for air. A slightly firm, almost compressive fit on dry land is a good start. If it's barely holding on when it's dry, it will easily let go when it's wet, so a snug fit is best.
Take It for a Test Dive
Measured up? Chatted with Customer Service? Tried it on and found it perfectly snug in your living room? Go on, dive in and give it a swim. Our 360 Guarantee is the ultimate swim safety net: if for any reason or no reason, you are not happy with your purchase, send it round-trip within a year for an exchange or full refund. No questions. No hassles. No kidding.
---
How do I measure for the best swimsuit fit?
Use the Fit & Sizing Info on any swimsuit page to help with a base size. Every swimsuit style includes a sizing chart specific to that swim style and design. If you're unsure how to measure for a swimsuit, this is where to start.
Bust/Chest: With arms and shoulders relaxed, measure under the arms, around the fullest part of bust/chest, keeping the measuring tape parallel to floor. Think it may be too snug? Take a seat, as chests expand slightly when seated. To find out your cup/band swimwear size, use our bra fit calculator. Your cup-band swimsuit size and bra size are the same.
Waist: Measure around the smallest area of the waist, your natural waistline, taking care to not pull the tape too tight.
Hips: With feet together, keeping tape straight and parallel to the floor, measure around fullest part of your powerhouse.
Torso: To determine torso length for swimwear, measure in a U shape, from the front of one shoulder, down through the legs and up the back of the same shoulder.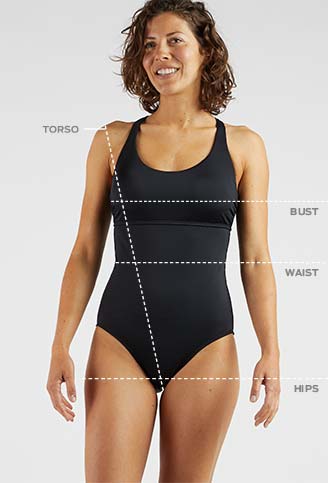 ---
How do I take care of my swimsuit and make it last long?
If you want to keep swimsuits from fading, proper care can make all the difference. Here's how to wash a swimsuit.
Hand wash if you can: Wash by hand using cold water and a mild detergent, both of which are more gentle on fabric and help to retain elasticity.
Machine wash if you must: We know that not everyone has the time to wash their swimsuits by hand. If you do put swimwear in the washing machine, use cold water, the gentlest cycle and place the items in a lingerie bag. Always fasten hooks so that they don't get caught on anything else.
The dryer will fry them: Melting, melting, oh, what a world! While they save time, dryers are the Wicked Witch in the land of swimwear. Heat from dryers will wear swimsuits out much more quickly and can warp the elastic. Instead, lay these pieces flat (or hang them) to dry.