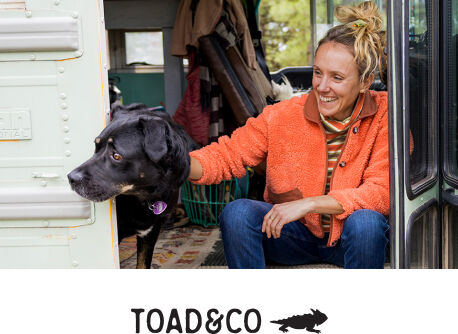 When T9 first met Toad&Co, it was work-love at work-sight. We were making tough stuff for tough women, and they were doing something tough too: pursuing sustainability no matter how high the cost. 20 years later we're still all-in, partnered to create great gear and take great responsibility. Get the whole story on our blog.
Toad and Co Clothing
Here at Title Nine, we're proud to partner with this amazing sustainable fashion company. We offer a curated assortment of Toad & Co dress styles, t-shirts, pants, tank tops, and other activewear, with many styles created exclusively for T9.
Why do we partner with Toad & Co?
This creator of socially and environmentally conscious eco friendly clothing for women fuses functionality with style, from best-selling dresses to pants and button-up tops made from organic cotton. Toad clothing is so versatile and comfortable that it makes us want to take the extra-long route, even in blistering heat or bitter cold. The best part is, Toad and Co is an all-around good company, working to make positive global change at every level of the supply chain while taking care of the planet and supporting our communities.
We love Toad and Co because they make bold, visually appealing casual clothing and organic basics for women. From their go-with-the-flow long and short sleeve t-shirts and five-pocket pants to maxi and wrap dress styles made from organic cotton and recycled materials, Toad and Co's clothing collection of eco-friendly clothing is amazingly versatile. We've been Toad & Co's partners for over two decades.
Who was the founder of Toad and Co?
Founded by Jessica Nordhaus in 1991, Toad & Co began its women's clothing collection in a garage in Telluride, CO. Jessica started out creating handmade toque hats for her friends, and soon expanded into other eco-friendly clothing made from recycled and sustainably sourced materials, like fleece jackets, vests, outerwear, dresses, and pants. She opened her first retail store in 1995, and since then has continued growing her passion for sustainable activewear and alternative apparel into a women-owned sustainable fashion company that's a force for good.
As a fellow woman-owned company supporting women's movement, T9 is proud to support our fellow women in the biz by carrying an extensive collection of eco-friendly activewear made by Toad & Co, like Toad dresses, wraps, and casual skirts, Toad and Co pants, jackets, and long sleeve, short-sleeve, sleeveless and v-neck t-shirts.
What was the previous name of Toad & Co?
When Jessica Nordhaus began making her now famous eco-friendly activewear she named her company Horny Toad, after growing up with these lizards in her childhood home of Albuquerque, New Mexico. In 2015, the company changed the name to Toad & Co to reflect their increasingly strong network of partners who work with the company to create and champion sustainable, eco-friendly clothing sold at a fair price.
Is Toad and Co a good brand?
Toad and Co is a leader in sustainably made, environmentally responsible garments and clothing. The clothing brand focuses on making women's activewear and casual clothes that are climate-neutral and earth-first, while maintaining accessible price points for women who want to support eco-friendly and sustainable fashion.
Toad & Co uses sustainable fibers in many of its garments and clothing. Sustainable and recycled materials such organic cotton, Modal, Tencel, hemp, linen, and recycled polyester and nylon are used to create many of our favorite Toad & Co button-up flannel shirts, hoodies, corduroy pants, and hooded dresses.
From offering packaging options that can be reused or recycled to supporting the circular economy, Toad & Co is working to help the planet through every part of their business. The company is also a proud member of 1% for the Planet and has pledged to donate 1% of all dress sales to non-profits who are working together for a healthy planet.
Shop featured categories and brands: