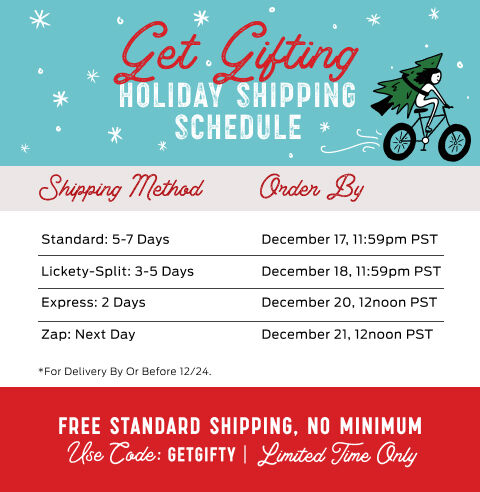 Shipping & Delivery
---
How Can I Track My Order?
You can track your order by checking the Order Status.
check order status
---
After I've placed my order, how long will it take to ship?
Please see our Shipping Table below for an estimated arrival date. NOTE: Arrival dates are calculated from the time we ship your item(s). We try to ship everything within 24 hours of receiving your order. Orders placed over the weekend will ship the next business day. So, for example: if you're placing a 2-day Express order on Friday, it will ship on Monday and arrive on Wednesday. We do not offer Saturday delivery for our Express or Zap services.
---
How will my Pre Order items ship?
All items purchased with the availability status of "Pre Order" will ship Standard Delivery. However, if all items in your order are Pre Order status when purchased and you chose an expedited service, the first item will be expedited and the rest will go out Standard Delivery.
---
How can I check on the status of my order, or return?
You can check your order status here. For returns, if you used our pre-printed return label to return your purchase to Title Nine, you will receive an email notification with a link to track the progress of your return package back to us.
---
Does Title Nine ship to freight forwarders?
Title Nine does not ship to freight forwarders under any circumstances.
---
Does Title Nine ship internationally?
Currently, orders can only be shipped to U.S. addresses (including P.O. Boxes, APO's, DPO's, and FPO's) and to Canada. Please note, Title Nine is not responsible for customs fees that may apply to Canada shipments. We are not able to ship to U.S. Territories at this time.
---
shipping method
cost*

STANDARD:


Orders up to $99.99
5-7 business days after shipped
$6.00

STANDARD:


Orders $100+


5-7 business days after shipped

$9.00

Lickety Split:


3 - 5 business days after shipped
Orders must be placed by
2PM, Pacific Time
Standard Rate + $12


Not available to AK & HI

Express:


2 business days after shipped
Orders must be placed by
2PM, Pacific Time
Standard Rate + $15
AK & HI, Standard Rate + $18
Not available to P.O. Boxes,
Canada or APO / FPO.
No weekend delivery.

ZAP:


next business day after shipped
Orders must be placed by
2PM, Pacific Time
Standard Rate + $25
Not available to AK & HI, P.O.
Boxes, Canada or APO / FPO.
No weekend delivery.
STANDARD GROUND
CANADIAN DELIVERY:


7 - 14 business days once shipped

Standard Rate + $28
Customer is responsible for any
customs fees that may apply.

* total price of items shipped to each address