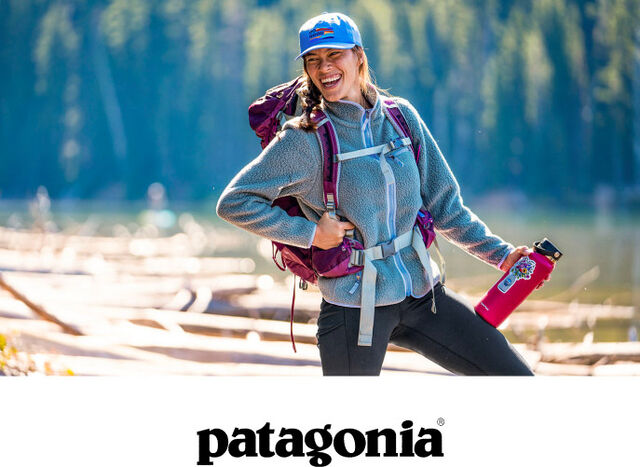 Patagonia
Patagonia
Women's Patagonia Clothes and Bags
If you consider yourself an outdoor enthusiast, then you probably already know why Patagonia is one of the best sustainable and recycle-focused outdoor clothing manufacturers around. This legendary clothing and gear brand, founded in 1973, was a socially conscious retailer way before it was cool. These days, Patagonia clothes and gear for women, including jackets, vests, insulated parkas, sweaters, pullover fleece, shorts, bottoms, dresses and swimwear are still sustainably-made, and Patagonia donates a portion of their profits to social and environmental causes.
What's so great about Patagonia clothing and the Patagonia brand? If you've never had a piece of Patagonia clothing, let us introduce you to the staples. Most any Patagonia tried-and-true fleece jacket, pullover, or Full Zip hooded shirt or hoodie is our favorite because of its lightweight fabric coupled with the Patagonia combo of warmth and freedom of movement.
Which Patagonia jacket is best for winter? There's the Patagonia Nano Puff vest, Worth Parka and Jag Insulated Jacket for cold-weather wear that can seriously change the game for winter sports, climbing and hiking. Title Nine always has the perfect insulated jacket or sweater jacket for women by Patagonia!
Patagonia also makes summer-ready clothing and gear for women for casual active pursuits and mild weather endeavors. Explore our selection of women's Patagonia clothes, including tank top, T shirt, dress, and shorts designs, as well as Patagonia swim wear, to see what we mean. These comfy Patagonia basics are great for yoga, running and other sweat-inducing activities. Don't forget to check out Patagonia accessories for women, including water-resistant and waterproof camping packs, duffels and more at Title Nine.
Check out Title Nine's open letter to the women founders of Patagonia, explaining why we believe in their long-lasting, sustainable gear--hard working and hard playing fleece, sweaters, hoodies, jackets, shorts, shirts, swimsuits, duffels and gear that deserve the investment of our hard-earned money.
Shop featured categories: