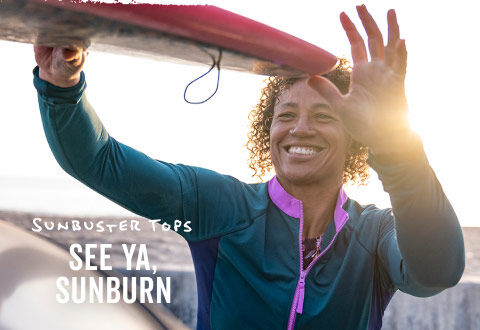 Swim Shirts & Sun Shirts
Swim Shirts & Sun Shirts
Sunburn no more—get all day sun protection with Women's Sun Shirts & Swim Shirts.
When we're having fun in the sun, the last thing women want to worry about is reapplying sunscreen. That's why Title Nine created a collection of UPF-rated short sleeve and long sleeve sun shirts for women that have sun protection built right in.
Are sun shirts protective?
T9 swim shirts and sun shirts for women are all specially designed with UPF 50 fabric, so they offer excellent sun protection all day long, whether we're going for a swim, hopping on a surf board, hanging at the beach or doing any outdoor activities. A sun shirt often looks like a regular shirt, and comes in a wide variety of styles for women, like short sleeve, long sleeve, zip-up, or pullover tops. The difference? The sun protection is built right in.
What is UPF 50?
A UPF rating helps you know how much UV protection a sun shirt or rashguard provides. The Skin Cancer Foundation rates anything above a UPF 30 as "very good protection," but most of Title Nine's sun-protective clothing for women is UPF 50+ (rated as "excellent protection"). Think of it a bit like SPF (sun protection factor)—the higher the number, the more UV rays it blocks. A regular shirt has very poor protection—technically you should wear sunscreen underneath a regular cotton t-shirt. A UPF garment? No SPF required.
Do I need to wear sunscreen underneath a swim shirt?
Nope—that's the beauty of swim shirts and
rash guards
. They're created with special UPF 50 fabric that blocks the sun's damaging UV rays, so you don't need to worry about SPF. Don't forget to apply sunscreen to all the parts that aren't covered, though—even a long sleeve rash guard or sun shirt doesn't protect every part of your body (we're looking at you, back of the neck!)
Are swim shirts different than rash guards?
While both swim shirts and rash guards are designed to protect you from the sun while you're in the water, swim shirts and rash guards have some basic differences:
- Swim shirts are all-purpose swim tops, just as comfortable for swimming as they are for playing with the kids or grabbing a bite from the snack shack. They're a perfect cover-up or topper to your swimsuit.
- Rash guards—long sleeve or short sleeve—are most often used by surfers or other high-intensity water sports, and fit like a compression shirt so it stays put no matter through even the most epic wipe out. While they're super high-performance, they aren't necessarily meant for lounging by the pool.
Shop featured categories: