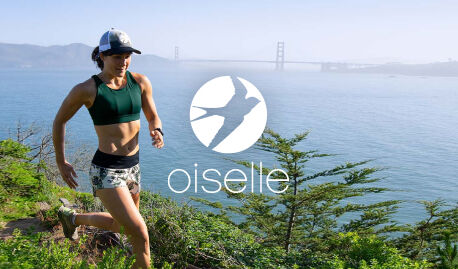 When it comes to women, sports and clothes, there is no greater expert than our pal Sally Bergesen, the founder of Oiselle. Fed up with ad agency work and the state of women's running apparel, Sally launched her own company, taking her runway-inspired apparel to women runners.
Oiselle Running Clothes For Women
Oiselle Running Clothes For Women
Oiselle Running Gear
Run to your heart's content with Title Nine's curated collection of Oiselle running clothing and gear. This next-level activewear brand was developed by and for female athletes in an effort to produce running clothes, including compression tights, high waist leggings, drawstring shorts, active pants, water-resistant jackets and racerback sports bras to help us hit our stride, plus gear like gloves, headbands, and socks that don't get in our way while we're running. Title Nine and Oiselle share similar values, especially when it comes to supporting other women and the transformative power of sport, so we make natural partners!
Who founded Oiselle?
Founder and CEO Sally Bergesen started the Oiselle brand in an effort to create clothing for everyday athletes to help us go the extra mile. Using quality performance materials with softness, stretch, durability, and technical properties to control heat and sweat management, Bergesen and her team create supportive sports bras, smooth-waisted running shorts, jackets, leggings, tights, tanks tops, and long sleeve shirts that feel like second skin and that make going on a run truly breezy. Oiselle's team has thought of nearly everything, meeting the needs of women athletes everywhere. For example, Oiselle's running leggings and shorts have ample pockets to stash our running cargo - pockets big enough for our phone, a key, and even a small snack. Comfort is a given with Oiselle's women's running gear. Whether it's a long sleeve t-shirt, a breathable tank top, a pair of must-have running shorts, or leggings, Oiselle running gear is made with breathable, wicking materials that don't pinch or restrict women's movement.
What does Oiselle mean?
The word Oiselle (pronounced wa-zell) is French for "bird". The running apparel brand is inspired by the feeling of weightlessness that runners know and love—when our legs go fast and our heart goes free. Our selection of Oiselle tights, active pants, leggings, and athletic apparel provides breathable running gear for those of us who love to move, run, and fly.
Where is Oiselle based?
Located in Seattle, Washington, Oiselle's weather-resistant, moisture-wicking running gear is made for all kinds of weather—from breathable sweat-wicking running shorts and tank tops perfect for long runs on hot days, to merino wool running gloves, and water-resistant pullovers and base layers perfect for cold weather adventures.
No matter where we're running, Oiselle's running gear for women keeps us going with high-performance, high-quality athletic apparel and gear that makes sure we always get our run in.